The main objective of teaching is not to give explanations, bit to knock at the doors of the mind.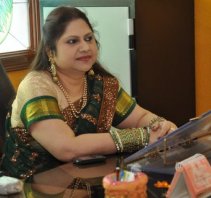 Mrs. Jasmin Rafi Lal
(Vice Chairperson DIRD)
FROM THE DESK OF VICE CHAIRPERSON
Every new day dawns with different challenges. The future rushing towards us with supersonic speed has to be faced boldly. To achieve success is one of the toughest challenges; however, the highly committed staff and students of DIRD have been achieving this feat year after year. The aim of DIRD is to equip the students with passion for success and excellence.
At DIRD we exert on imparting instructions which helps in creating an environment that is conducive to learning by self-study, case study, group discussions and presentations. The Institute is providing best possible opportunities and infrastructure for nurturing the students in a serene environment. Our Academic Programs are growth oriented & relevant for developing critical thinking & problem solving skills.My wishes to future Managers.